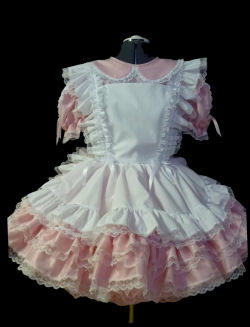 "Sweet Pinafore by UniKaren Designs
PHOTOS ARE COPYRIGHT TO UNIKARENDESIGNS. If you wish to use any photos of me modeling my dresses on your website, you MUST obtain permission.
Fabric: Lightweight true pink taffeta, white on white shirting, white nylon lace.
Skirt fits a full petti, shown here on 17" 100-yard crystalline one (not included). Gored skirt falls in a beautiful circle, with a bottom tier trimmed in flat white lace. Ruffles are made from the taffeta, with the flat white trim along the bottom edge, and white flat lace along the top edge. They are attached with double ruffled white ribbon over nylon lace. The upper ruffle goes all the way around and sweeps up to the center back, and between the sweeps are yards and yards more ruffles to fill in the back. This UniKaren's trademark "Rufflebutt" design.
Flat "little girl" style bodice features a mock bib, with wide white ruffles along both sides and down to the center back. Each ruffle is attached with double ruffled white ribbon over nylon lace. Two pretty white ribbon bows adorn the waist where the ruffles meet the skirt.
Peter Pan collar completes this "little girl" style outfit. Made from pink taffeta and trimmed in the same double ruffled lace as the rest of the outfit. Finished with pink taffeta bias along the neck edge.
Full pouffy sleeves are elasticized for upper arm comfort, hemmed in wide white lace. Pleated at the shoulder for a professional finish. The double ruffled lace is stitched in the formation of a triangle, and the bottom of the triangle is filled with 5 layers of the lace. A cute pink bow finishes the sleeves.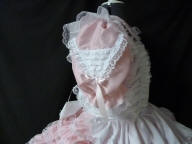 White overskirt covers the skirt up to where the pink taffeta ruffles meet. Finished in white lace trim like the rest of the dress. Long sashes stem from the side seams to tie over the center back, to adjust to your waist comfort level.
Matching bloomers have a long inseam, by request. Back is covered in several layers of ruffles, and there are pink ribbons at the side.
Matching doll dress fits "My Twin", includes triangular design on sleeve, Peter Pan collar, white mock pinafore (bib and overskirt) with sashes which tie in the back.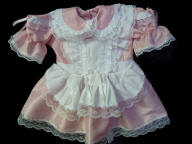 If you have questions, just ask.