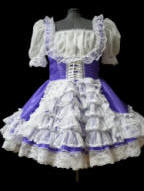 "Lupine"
by UniKaren Designs
PHOTOS ARE COPYRIGHT TO UNIKARENDESIGNS. If you wish to use any photos of me modeling my dresses on your website, you MUST obtain permission.
Fabric: Lightweight light purple taffeta contrasted with printed sheer silver with silver stripe design. Note pictures make purple appear as periwinkle blue.
Skirt fits a full petti (displayed on 100-yard crystalline one, not included). Eight gored pattern creates a full circle. Bottom tier is made of taffeta, with 3" white flat scalloped lace on the hem. Upper ruffle is created from sheer striped fabric that has a design of a silver ribbon going through vertically; finished with lace along the top edge and 3" scalloped lace along the bottom. It is attached with silver ric rac.
Ruffle goes all the way around and sweeps up to the center front. Between the sweeps are rows and rows of white ruffles, trimmed in white lace along both edges, and attached with silver ric rac.
Bodice is fitted to a beautiful womanly shape with darts. It is completely lined on the inside with the same taffeta fabric. A vertical design is created with white flat lace, through which white shoelace is inserted in a criss-cross design. The bodice inset is made from the sheer white and is lined in white, trimmed with white lace along the top edge. It is elasticized across the top so that extra cleavage can be built up to one's desire.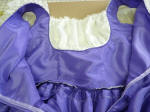 Pic shows inside of bodice is all lined in taffeta.
Trimming the entire neckline down and under the bodice inset is white ruffled lace first, then a second white ruffle with silver speckles in it, and silver ric rac to finish.
Side sashes stem from the side seams and create a perky bow over the center back. Center back zipper.
Full pouffy sleeves are made from the sheer fabric and are elasticized for upper arm comfort. Pleated at the shoulder for a professional finish. Finished in white lace.
Made especially for you by UniKaren Designs, with thanks for your patronage.
If you have questions, just ask.
MEASUREMENTS
Chest: 46" + 2" extra bosom
Just under bosom: 42"
Waist: 38-39"
Bodice: 19.5" (mid shoulder to waist)
Waist to hem: 20.5-21.0"
Across Back: 10"

~ ~ ~ ~ ~ ~ ~ ~ ~
REMEMBER THIS !!
You can always wear a dress
that is too large,
but you cannot wear one
that is too small.
Check measurements, please!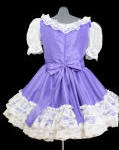 \