Featured:
Adult Sissy pink taffeta dress with ruffled front, silver contrast. Custom.
Plagiarism: The copying of another person's ideas, text, or other creative work, and presenting it as one's own, especially without permission; Text or other work resulting from this act.


Imitated by many... Duplicated by no one
IF PHOTOS DO NOT APPEAR it's because we're using too much BANDWIDTH, in which case I will put them here.
NOT RESPONSIBLE FOR POSTAL RATES.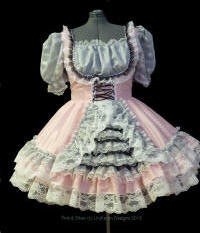 "Pink & Silver"
by UniKaren Designs
PHOTOS ARE COPYRIGHT TO UNIKARENDESIGNS. If you wish to use any photos of me modeling my dresses on your website, you MUST obtain permission.
Fabric: Lightweight light pink taffeta contrasted with printed sheer silver with plaid design
Skirt fits a full petti (displayed on 100-yard crystalline one, not included). Eight gored pattern creates a full circle. Bottom tier is made of taffeta, with 3" white flat lace on the hem. Upper ruffle is created from silver sheer fabric that has a design of a ribbon going through, trimmed with flat white lace on the edges. It is attached with silver rick rac.
Ruffle goes all the way around and sweeps up to the center front. Between the sweeps are rows and rows of silver ruffles, trimmed in white lace along both edges, and attached with black ruffled lace and silver ric rac.
Bodice is fitted to a beautiful womanly shape with darts. It is completely lined on the inside with the same taffeta fabric. A vertical design is created with white flat lace, through which black lace is inserted in a criss-cross design. The bodice inset is made from the sheer silver and is lined in white, trimmed with white lace along the top edge. It is elasticized across the top so that extra cleavage can be built up to one's desire.
Trimming the entire neckline down and under the bodice inset is white ruffled lace first, then black ruffled lace over that, and silver ric rac to finish.
Side sashes stem from the side seams and create a perky bow over the center back. Center back zipper.
Full pouffy sleeves are made from the sheer silver fabric and are elasticized for upper arm comfort. Pleated at the shoulder for a professional finish. Finished in white lace.
Made especially for you by UniKaren Designs, with thanks for your patronage.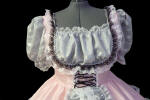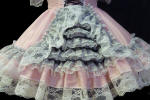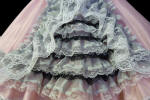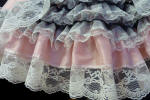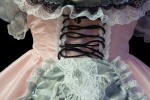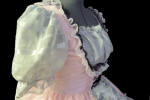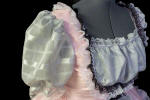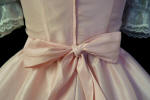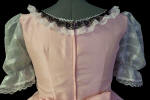 If you have questions, just ask.
MEASUREMENTS
Chest: 45" + 2" extra bosom
Waist: 37"
Bodice: 18" (mid shoulder to waist)
Waist to hem: 21"
Across Back: 17"

~ ~ ~ ~ ~ ~ ~ ~ ~
REMEMBER THIS !!
You can always wear a dress
that is too large,
but you cannot wear one
that is too small.
Check measurements, please!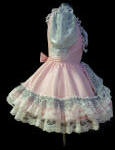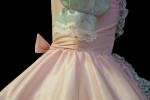 About UniKaren Designs: Purchasing a UniKaren Design means you are getting an ORIGINAL outfit. Since I was a teenager, I have been designing and sewing square dance outfits... it's been 33 years now. To this day I still have hundreds of design ideas and I look forward to seeing them come to fruition, and hope that you will continue to enjoy what I create.
Privacy Policy: All items are discretely packaged. Tissue is folded into the outfit to prevent wrinkling as much as possible. Item is then wrapped in plastic before box packaging. A mailing label is placed on the inside parcel in the event the outside parcel is damaged. For items going outside of the country, please inform me as to what you want written on the declaration. I respect your need for discretion.
Terms & Conditions: All items are made from new fabric and notions. They are not pre-washed. All reasonable efforts are made to accurately display the attributes of the products, including the appropriate colors; however, the actual color you see will depend on your computer system and there is no guarantee that your computer will accurately display such colors. All outfits are designed and sewn by me. I take a great deal of pride in my workmanship. Seams professionally finished & pressed. Your satisfaction with the product is of the utmost importance to me. If you are not completely satisfied, please notify me immediately. Shipping from smoke-free and pet-free environment.
Payment Options: Paypal preferred please!



Shipping: No profit on shipping, I promise. No handling fee.