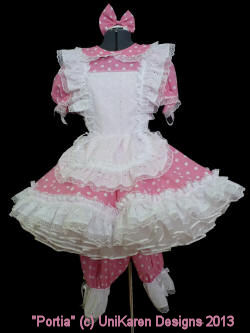 "Portia"
by UniKaren Designs
PHOTOS ARE COPYRIGHT TO UNIKARENDESIGNS. If you wish to use any photos of me modeling my dresses on your website, you MUST obtain permission.
Fabric: Lightweight poly cotton WASHABLE blend print combined with 100% cotton eyelet. FABRIC IS PRE-WASHED to ensure no shrinkage.
Skirt fits a full petti, shown here on 17" 100-yard crystalline one (not included). Gored skirt falls in a beautiful circle, with a bottom tier made of white eyelet trimmed in white lace and attached with white ruffled lace.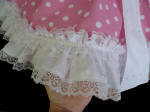 Skirt is lined in white to give it a nice weight and finish, and to prevent fraying of fabric on scratchy petticoat.
Apron is attached to center front waist seam. It features the same fabric ruffles as the bottom of the skirt, with white lace on the bottom edge and narrow flat lace on the top edge. Two ribbon bows adorn the waist where the ruffles of the bodice and skirt intersect.
Flat bodice features an overlay of white eyelet down the center. Wide eyelet ruffles trimmed in white lace go from center front to center back, attached with white ruffled lace.
Peter Pan collar features white ruffled lace sandwiched between the layers.
White eyelet sashes stem from the side seams, and tie into a perky pretty bow over the center back zipper, with the ties falling beautifully over the back of the skirt.
Full pouffy sleeves are elasticized for upper arm comfort. Pleated at the shoulder for a professional finish. White ribbon bows at the sides of the sleeves complete the look.
Matching pantaloons and hair bow complete the outfit. Pantaloons have white eyelet ruffles finished in white lace. Ribbon bows decorate the side seams.
MEASUREMENTS
Chest: 36"
Waist: 28"
Bodice: 17" (mid shoulder to waist)
Waist to hem: 17"
Across Back: 15"
Bloomers waist: 24-48"
Bloomers elastic below knee: 14-24"
Crotch seam to top of elastic: 14.5"
Crotch seam to hem: 18"
~ ~ ~ ~ ~ ~ ~ ~ ~
REMEMBER THIS !!
You can always wear a dress
that is too large,
but you cannot wear one
that is too small.
Check measurements, please!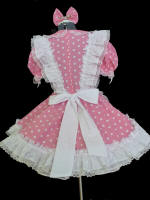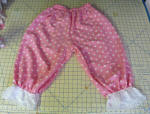 If you have questions, just ask.