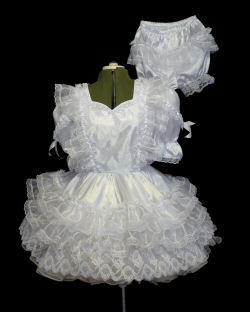 "Christmas Bride"
by UniKaren Designs
PHOTOS ARE COPYRIGHT TO UNIKARENDESIGNS. If you wish to use any photos of me modeling my dresses on your website, you MUST obtain permission.
Fabric: Pure white bridal satin, combined with iridescent pure white organdy, white laces
Skirt fits a full petti (displayed on 100-yard crystalline one, not included). Eight gored pattern creates a full circle. Bottom tier is a unique white crinkle lace with an imprinted floral design and scalloped edge used for the hem.
Above the attachment of the bottom ruffle are two layers of ruffled organdy. The bottom one is attached with narrow double ruffled satin over nylon lace, and the top one is attached with a wider satin over nylon ruffled lace.
Darted bodice is fitted to a beautiful womanly shape with darts in the front and back. There is an overlay of white organdy down the center front. Each side of the organdy and down to the center back are organdy ruffles, attached with double ruffled satin over nylon lace. Sweetheart neckline has double ruffled lace trimming the neckline.
Satin sashes stem from the side seams and create a perky bow over the center back. Center back zipper.
Full pouffy sleeves are made from the satin and have ethe classic UniKaren triangular overlay in organdy, attached with the double ruffled lace, and show off a white satin bow at the point. Pleated the shoulder for a professional finish, and elasticized for comfort. Finished with white flat lace.
Matching bloomers have a wide floral lace on the hem. One row of organdy ruffles attached with the double ruffled lace adorns the back. White satin ribbons finish off the side seams.
Made especially for you by UniKaren Designs, with thanks for your patronage.
If you have questions, just ask.
MEASUREMENTS
Chest: up to 43"
Waist: up to 34"
Bodice: 16.5"
(bodice measured down the back;
mid shoulder to waist)
Waist to hem: 17"
Across Back: 16.5"
Bloomers waist: 26-44"
Bloomers leg openings: 18-29"

~ ~ ~ ~ ~ ~ ~ ~ ~
REMEMBER THIS !!
You can always wear a dress
that is too large,
but you cannot wear one
that is too small.
Check measurements, please!