Featured:
Lavender satin rufflebutt sissy dress. Custom.
Plagiarism: The copying of another person's ideas, text, or other creative work, and presenting it as one's own, especially without permission; Text or other work resulting from this act.


Imitated by many... Duplicated by no one
IF PHOTOS DO NOT APPEAR it's because we're using too much BANDWIDTH, in which case I will put them here.
NOT RESPONSIBLE FOR POSTAL RATES.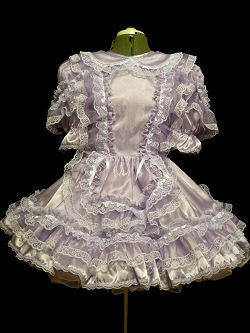 "Lavender Frost"
by UniKaren Designs
PHOTOS ARE COPYRIGHT TO UNIKARENDESIGNS. If you wish to use any photos of me modeling my dresses on your website, you MUST obtain permission.
Fabric: Lavender satin, and lavender organdy. Two flat laces for hems, and double ruffled lace with satin over nylon.
Skirt fits a full petti, shown here on 17" 100-yard crystalline one (not included). Bottom tier is made of lavender satin with flat lace on the bottom and top edges.
All ruffles are made from lavender organdy. Both edges are serged. The bottom has 1" flat lace and the top edge has 1/2" flat lace. The bottom of the skirt has a ruffle that goes all the way around and sweeps up at the center back, and between the sweeps is yards and yards of organdy ruffles.
Apron is attached at the center front. It is made of one layer of satin, and topped with one layer of organdy. The organdy ruffles finish the apron and are attached with the double ruffled lace. At the intersection of the apron and bodice where the ruffles meet, sits a tiny satin flower of ribbon with tiny beads in the center (see also side of sleeve).
Sashes stem from the side seams and tie in the back and can be cinched to fit the dress comfortably.
The satin bodice features a strip of organdy down the center, trimmed with the organdy ruffles and attached with the double ruffled lace. Peter Pan collar is made of satin with a layer of organza over top, with the double ruffled lace sandwiched in between.
Full pouffy sleeves are elasticized for upper arm comfort. Pleated at the shoulder for a professional finish, these sleeves feature a triangular overlay of organdy, with ruffles finishing off the edges of the triangle, attached with the same double ruffled lace. At the tip of the triangle is a lavender satin flower with tiny beads in the center, pinned on with a strip of white ribbon.
Bloomers feature 3 rows of ruffles, trimmed with white lace on the top and bottom edges. Hems are finished in the same white lace as on the dress. Elasticized waist and leg openings offer a comfortable flexible fit.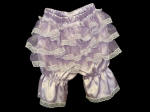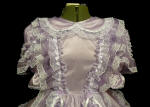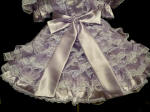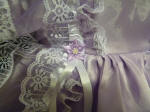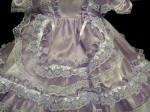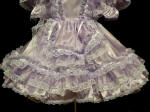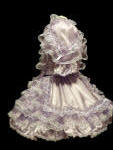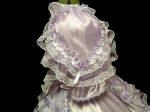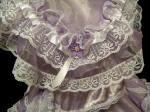 MEASUREMENTS
Chest: 36"
Waist: 30"
Bodice: 17"
Waist to hem: 17"
Across Back: 14"
Bloomers waist: 325-45"
Bloomers elastic thigh: 16-30"
Crotch seam to hem: 10"
~ ~ ~ ~ ~ ~ ~ ~ ~
REMEMBER THIS !!
You can always wear a dress
that is too large,
but you cannot wear one
that is too small.
Check measurements, please!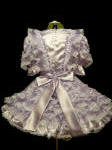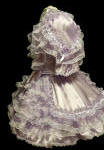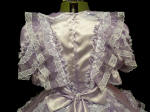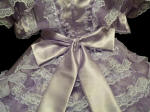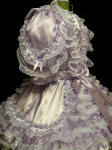 If you have questions, just ask.