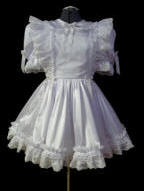 "Angel White"
by UniKaren Designs
PHOTOS ARE COPYRIGHT TO UNIKARENDESIGNS. If you wish to use any photos of me modeling my dresses on your website, you MUST obtain permission.
Fabric: Pure white shiny satin, 100% cotton eyelet
Lined flat bodice center front features a mock bib made of white eyelet fabric. Ruffles made of eyelet are trimmed in flat lace, and go from center front to center back. They are attached with double ruffled lace consisting of white satin over white nylon. Peter Pan collar has white double ruffled lace sandwiched between the two layers.
Satin ribbon bows embellish the front of the dress where the bib meets the skirt, and in the center of the Peter Pan collar.
Skirt is hand pleated at the seam for a professional finish. Bottom features a ruffle of eyelet fabric, with white lace trim along the top edge and the hem. It is attached with double ruffled white satin over nylon lace. Full skirt is 180" in fullness and will fit over a full petticoat (not included).
Satin sashes stem from the side seams and create a bow over the center back zipper.
Full pouffy sleeves feature a triangular overlay of eyelet fabric that matches the bib. A white satin bow finishes off the point of the triangle. Wide flat lace finishes the hems.
Matching bloomers are elasticized for maximum comfort. Nice stretch in the waist and leg openings. Flat floral lace finishes the hems. White satin ribbon bows embellish the side seams.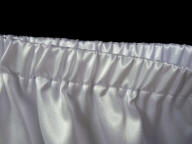 Bonnet is completely lined. Ties create a bow under the chin. Front of bonnet features double ruffled satin-over-nylon lace, a bit wider than that used to attach the dress ruffles. An eyelet fabric ruffle adorns the crown of the bonnet to match the dress ruffles. It has the flat back to mimic children's wear.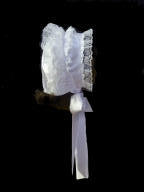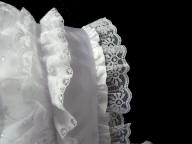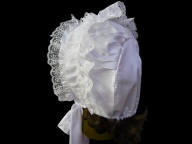 MEASUREMENTS
Chest: 38" or 96 cm
Waist: 36" or 91.5 cm
Bodice: 15.75" or 40 cm
Skirt: 18.5" or 47 cm
Length from shoulder to hem: 34.25" or 87 cm
Neck: 20" or 51 cm
Bloomers
Waist: 30-48" or 76-122 cm
Leg opening: 18-30" or 46-76 cm
Inseam including lace: 8.5" or 21.5 cm
~ ~ ~ ~ ~ ~ ~ ~ ~
REMEMBER THIS !!
You can always wear a dress
that is too large,
but you cannot wear one
that is too small.
Check measurements, please!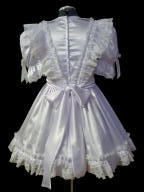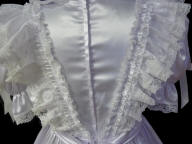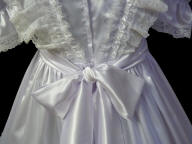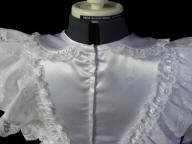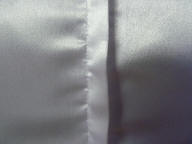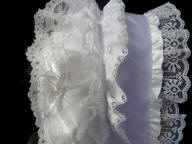 If you have questions, just ask.