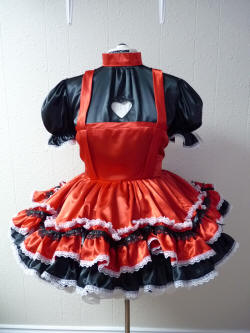 "Peekaboo Heart"
by UniKaren Designs
PHOTOS ARE COPYRIGHT TO UNIKARENDESIGNS. If you wish to use any photos of me modeling my dresses on your website, you MUST obtain permission.
Fabric: Black satin, red satin
Skirt fits a full petti, shown here on 100-yard crystalline one (not included). Gored skirt falls in a beautiful circle. Bottom tier is made from same satin, with white lace trim along the top and bottom edges, and it is attached with a ruffled black scalloped lace.
The overskirt is 7 scallops of red satin, with a ruffle made of same. Ruffles are finished with white lace along both edges, and are attached with double ruffled black satin over black nylon lace. Black ribbons finish off the intersection of each of the panels.
Bodice base is made of black satin. The contrasting red bib is attached, and finished with straps of the same fabric going from over the bib to center back. Straps are stitched at the shoulders and also following the horizontal stitching line of the front and back bands, to help keep them into place.
A small heart shape is cut out just above the bodice overlay to show a peek of cleavage.
Sleeves are made of black satin, and have flat lace trim on the hem. A white satin ribbon adorns the bottom of each sleeve. Elasticized for upper arm comfort, and pleated at the shoulder for a professional finish.
Stand-up collar has a hook and eye closure. For interest, the center of the back collar openings has been left open, so that a chain can be inserted along the length of the collar to come out of the other side, perhaps for a locking mechanism to hold the ends closed. When done up with the regular closure, no one would be the wiser.
Red satin sashes stem from the side seams and tie into a lovely feminine bow at the center back.
If you have questions, just ask.
MEASUREMENTS
Standard size Ladies 14
Chest: 41"
Waist: 33"
Shoulder to waist down back: 17"
Waist to hem: 14" including lace
Total Shoulder to Hem: 31"
It's SHORT!
Shoulder to shoulder
across the back: 16"
Neck opening: 15"
Sleeve elastic: 11-20"
~ ~ ~ ~ ~ ~ ~ ~ ~
REMEMBER THIS !!
You can always wear a dress
that is too large,
but you cannot wear one
that is too small.
Check measurements, please!