Featured:
Adult Sissy dress in red polka dots on white organza. Custom.
Plagiarism: The copying of another person's ideas, text, or other creative work, and presenting it as one's own, especially without permission; Text or other work resulting from this act.


Imitated by many... Duplicated by no one
NOT RESPONSIBLE FOR POSTAL RATES.
In IE, deselect "Enable Automatic Image Resizing" under Multimedia, in Tools, Internet Options. Otherwise the enlargements created by clicking the thumbnail photos will automatically reduce in size.
"Shirley Temple"
by UniKaren Designs
PHOTOS ARE COPYRIGHT TO UNIKARENDESIGNS. If you wish to use any photos of me modeling my dresses on your website, you MUST obtain permission.
Fabric: White polyester fabric made to feel and sound like organza, with red velvet dots; white lining & lace.
Dress was created to duplicate a Shirley Temple doll dress, in a large adult size.
Lined bodice is made short like a young girl's dress.
The entire dress has a lining. There is a lining in the bodice, and the skirt lining is slightly shorter than the longer skirt length.
The skirt consists of 240" of fabric for the bottom longer layer, and the same amount of fabric cut shorter for the upper layer, and the same amount of fabric cut out of the lining. (The skirt alone weighs 1 pound 10 oz.) The bottom edge of each of the skirt lengths is covered with a 1" wide flat ribbon, stitched along both edges to secure. Three inches above the bottom ribbon is another ribbon, meticulously pinned and sewn into place to create the effect of the four rows of trim.
Skirt is hand pleated at the high waist seam for a professional and even finish.
Along the bottom of the bodice, a much wider ribbon is attached. It is hand sewn along the bottom edge of the back of the bodice, and pinned in the center of the front bow's knot to help keep it in place.
The bodice trim is that same ribbon, folded in place. The collar trim overlaps the neck opening, and the bodice trim is hand-stitched in order to avoid the tucks and pleats that would arise from the curvature of the placement.
Full pouffy sleeves are hand pleated at the shoulder for a professional finish and elasticized at the upper arm for a comfortable fit. Hems are finished with white, the same as is on the slip hem.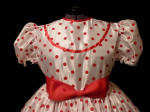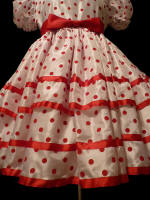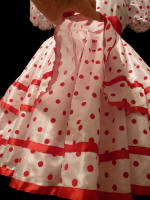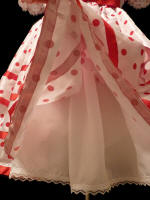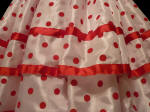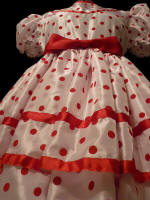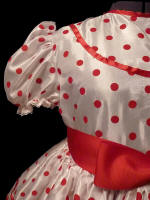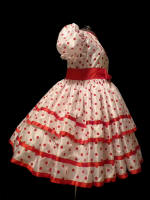 MEASUREMENTS
Chest: 42"
Waist: 40 at the seam
Bodice: 15"
Skirt: 24.5
Length from shoulder to hem: 39.5"
Across upper back: 18"

~ ~ ~ ~ ~ ~ ~ ~ ~
REMEMBER THIS !!
You can always wear a dress
that is too large,
but you cannot wear one
that is too small.
Check measurements, please!
If you have questions, just ask.