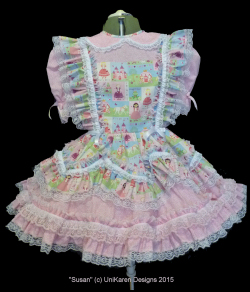 "Susan"
by UniKaren Designs
PHOTOS ARE COPYRIGHT TO UNIKARENDESIGNS. If you wish to use any photos of me modeling my dresses on your website, you MUST obtain permission.
Fabric: 100% cotton quality prints
Bodice features an attached bib, to create a cute pinafore effect. Bib and ruffles are made from contrasting print that has text like "princess" and "fairytale" on it, with cartoon pictures of horse & carriage, castles, etc.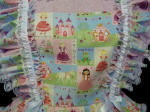 Peter Pan collar has double ruffled lace sandwiched between the layers and is attached with a bias strip made of the contrasting fabric.
Full 8-gored skirt is hand pleated at the waist seam for a professional finish. Bottom tier features a ruffle with white lace trim along the top edge and the hem. It is attached with double ruffled pink and white lace. Skirt will fit over a 100-yard crinoline (not included).
Overskirt is cut into scallop design and trimmed in ruffles made of the same fabric, with white lace trim along both edges. Ruffle is attached with a double ruffled satin over nylon lace.
Sashes stem from the side seams to create a perky bow over the center back.
Full pouffy sleeves are hand pleated at the shoulder for a professional finish. Hems are finished with white over pink lace. Pink ribbon bows adorn the sides of the sleeves.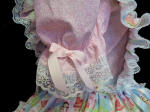 If you have questions, just ask.
MEASUREMENTS
Chest: 42"
Waist: 38"
Bodice: 17"
Skirt: 17"
Length from shoulder to hem: 34"
Across upper back: 17.5"

~ ~ ~ ~ ~ ~ ~ ~ ~
REMEMBER THIS !!
You can always wear a dress
that is too large,
but you cannot wear one
that is too small.
Check measurements, please!